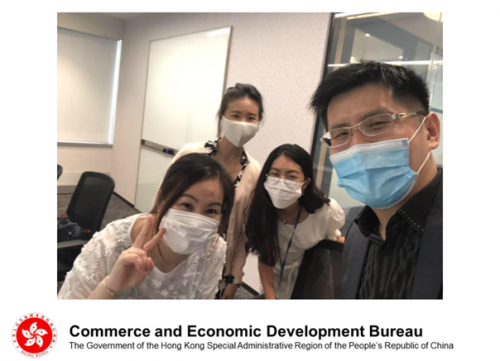 ▲Ms Elizabeth Fung, discussing the potential of how Imsight can incorporate with the development of the Greater Bay Area with Dr Chen Hao; Mr Chapman Lee; and Dr Clare Lai.
Connected by HKSTP incubation programme, Ms Elizabeth Fung, Political Assistant to the Secretary for Commerce and Economic Development came to visit Imsight Technology and acknowledged that the healthcare innovative technology will be one of the unicorn industries representing Hong Kong to enter into the era of unique and smart city.
To facilitate the role of Start-ups in the growth of the Greater Bay Area, solid integration between Shenzhen and Hong Kong is crucial. Both cities can enjoy strong collaboration in terms of high-end business and industry, strengthen economic exchange to unleash unlimited potential for a new form of partnership.
On Oct 12, Elizabeth was greeted by the company's CEO, Dr Chen Hao; Director, Mr Chapman Lee; and the Product Manager, Dr Clare Lai to describe the current positioning of the company. "Our division in Hong Kong is aimed for the overseas market" Chapman, our Director said, "whereas our headquarter in Shenzhen is targeted for the mainland market."
Chapman also addressed the company's current obstacles including the incompatibility of Technical Guideline on AI-Aided Software between HK and China. Currently, the Hong Kong Government approves CE Marking but does not recognize registration with NMPA, and vice versa. We sincerely hope the authorities will act in this respect to surpass such limitations that shall foster new forms of commercial relations between companies.